Whatsapp
Ada yang ditanyakan?
Klik untuk chat dengan customer support kami (DELL JAKARTA) - Laptop - PC Desktop - Server - PC AIO - Monitor - Docking - Battery
DELL JAKARTA
● online
+62818822655
DELL JAKARTA
● online
Halo, perkenalkan saya
DELL JAKARTA
baru saja
Ada yang bisa saya bantu?
baru saja
Buka jam 10.00 s/d jam 18.00 , Sabtu Jam 11.00 s/d 16.00 Minggu dan Hari Besar Libur
Info Produk DELL JAKARTA : 0818-822-655 (WA)
email DELL JAKARTA : sales1@fessadistribution.com
Tentukan pilihan yang tersedia!
DELl C5518QT 55″ Touch 4K 3840 x 2160 Speakers Integrated
DELL C5518QT 55″ Touch 3840 x 2160 Speakers Integrated
Specification / Spesifikasi :
55″ Touch , 3840 x 2160, Integrated speakers (10W x 2),4mm heat tempered glass,3 x HDMI 2.0,1 x DisplayPort 1.2,1 x VGA,1 x Audio Input,1 x Headphone Output ,1x RJ 45 ,3 x USB 3.0 ,1 x USB dedicated charging port ,1 x RS232,0.315 mm x 0.315 mm Pitch
Impressive visuals. Impactful presentations.
Exceptional viewing: Brilliant 4K resolution will keep audiences captivated, and consistent colours across a wide viewing angle allow everyone in the room to view clear text and crisp, vivid visuals.
Optimal performance: Dell monitor technology optimises fonts and ensures that visuals appear sharp while operating everyday programs like Microsoft PowerPoint, Word and Excel.
Consistent clarity: Anti-glare and anti-smudge coatings reduce distracting reflections and fingerprints.
Great for groups: The impressive 55-inch touch screen is ideal for conference room settings of up to 8 people.
Just the right touch
Constructive collaboration: Featuring up to 20 touch points with innovative InGlass™ Technology: multiple people can interact with the screen simultaneously via touch or styluses with 2 mm pen tips, making group collaboration intuitive and seamless.

Smooth interaction: The two included styluses allow you to write or draw naturally in real time directly on the screen without any lagging, while the included remote allows added functionality.
User-friendly functionality: Pen and finger differentiation makes it easy to switch between touch and pen-based interaction, and touch functionality is supported on virtually all industry-standard software.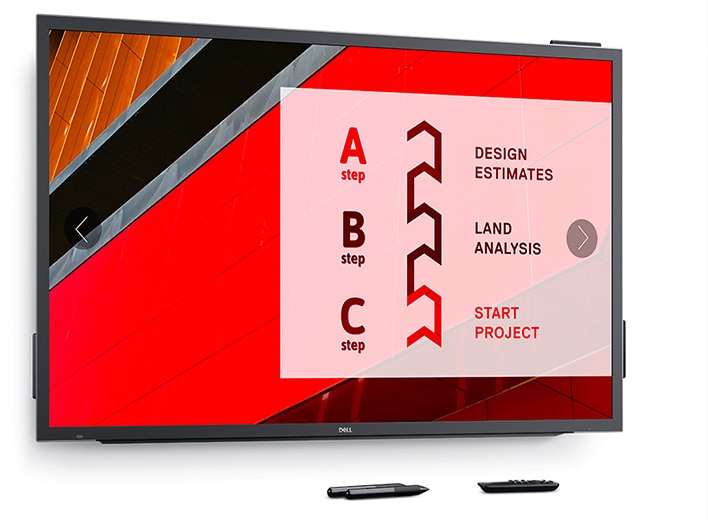 Simple set-up and management.
Convenient connectivity: A variety of ports – including HDMI, VGA, DisplayPort and USB – makes it easy to connect to most IT devices.
OptiPlex compatibility: The Dell 55 4K Interactive Touch Monitor features a unique design that's compatible with the optional Dell OptiPlex Micro, which integrates seamlessly into the back panel without the need of a separate power cable.

Easy manageability: The Dell Display Manager lets users easily organise screen layouts. RS232 and RJ45 interfaces allow you to manage the display remotely.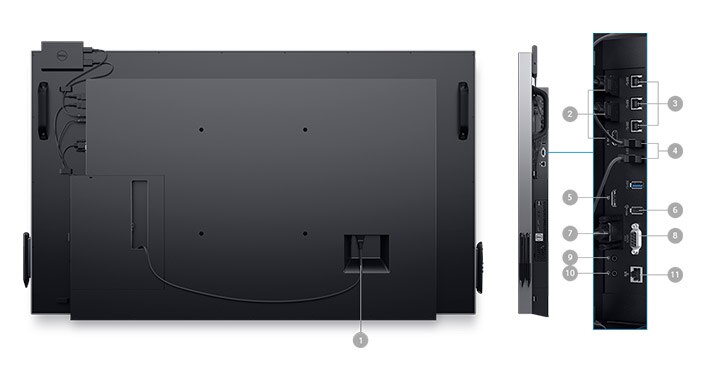 Connectivity Options
Ports and Slots:
1. Power Connector | 2. HDMI (x3) | 3. USB Type-B (x3) | 4. USB 3.0 | 5. DisplayPort | 6. Charging Port | 7. VGA | 8. RS232 Input | 9. Audio Input | 10. Audio Output | 11. RJ45 EthernetCables Included:
1. Power Cable
2. DP-DP Cable
3. HDMI-HDMI Cable
4. VGA Cable
5. USB Cable
6. USB Upstream Cable
Peace of mind, guaranteed.
A brand you can rely on
As the No. 1 monitor brand for three consecutive years
1
, Dell takes pride in our unyielding commitment to quality and the utmost satisfaction of our customers.
Expert Support
Relax knowing that your Dell monitor comes with next business day Advanced Exchange
2
 if your warranty issue can't be resolved over the phone. Get a higher level of support with ProSupport for monitors which includes 24×7
3
 access to ProSupport engineers for set-up, configuration, troubleshooting, and more, as well as next business day Advanced Exchange
2
 .
Reliable and responsible
Designed with the environment in mind, this monitor meets the latest regulatory and environmental standards such as China Energy Label, CEL, WEEE, ErP (EuP) Standards and Korea E-Standby.
DELL C5518QT Jakarta – DELL C5518QT Indonesia
DELL Jakarta – DELL Indonesia
Info : 0818822655 (WA)
Tags: DELL C5518QT, DELL C5518QT Indonesia, DELL C5518QT Jakarta
DELl C5518QT 55″ Touch 4K 3840 x 2160 Speakers Integrated
| | |
| --- | --- |
| Berat | 55000 gram |
| Kondisi | Baru |
| Dilihat | 1.616 kali |
| Diskusi | Belum ada komentar |