Whatsapp
Ada yang ditanyakan?
Klik untuk chat dengan customer support kami (DELL JAKARTA) - Laptop - PC Desktop - Server - PC AIO - Monitor - Docking - Battery
DELL JAKARTA
● online
+62818822655
DELL JAKARTA
● online
Halo, perkenalkan saya
DELL JAKARTA
baru saja
Ada yang bisa saya bantu?
baru saja
Buka jam 10.00 s/d jam 18.00 , Sabtu Jam 11.00 s/d 16.00 Minggu dan Hari Besar Libur
Info Produk DELL JAKARTA : 0818-822-655 (WA)
email DELL JAKARTA : sales1@fessadistribution.com
Beranda
»
DELL
»
DELL Precision T5820 Xeon W-2123 16GB 1TB NVIDIA Quadro P2000 5GB WIn 10 PRO LED 24″
Tentukan pilihan yang tersedia!
DELL Precision T5820 Xeon W-2123 16GB 1TB NVIDIA Quadro P2000 5GB WIn 10 PRO LED 24″
DELL Precision T5820 Xeon W-2123 16GB 1TB NVIDIA Quadro P2000 5GB WIn 10 PRO LED 24″
Spesifikasi :
Precision 5820 Tower / Intel Xeon W-2123 3.6GHz, 3.9GHz Turbo, 4C, 8.25M Cache, HT, (120W) DDR4-2666 / 16GB (2x8GB) 2666MHz DDR4 RDIMM ECC / 3.5″ 1TB 7200rpm SATA Hard Drive / Integrated Intel AHCI SATA chipset controller (8x 6.0Gb/s), SW RAID 0,1,5,10 / DVD+/-RW / P2419H 24″ monitor / NVIDIA Quadro P2000, 5GB, 4 DP (5820T) / USB Optical Mouse & USB Keyboard / Windows 10 Pro for Workstations (up to 4 Cores) English / 3Yr ProSupport:Next Business Day Onsite Service
Operating System
Available with Windows 10 Pro – for a smooth, versatile PC experience.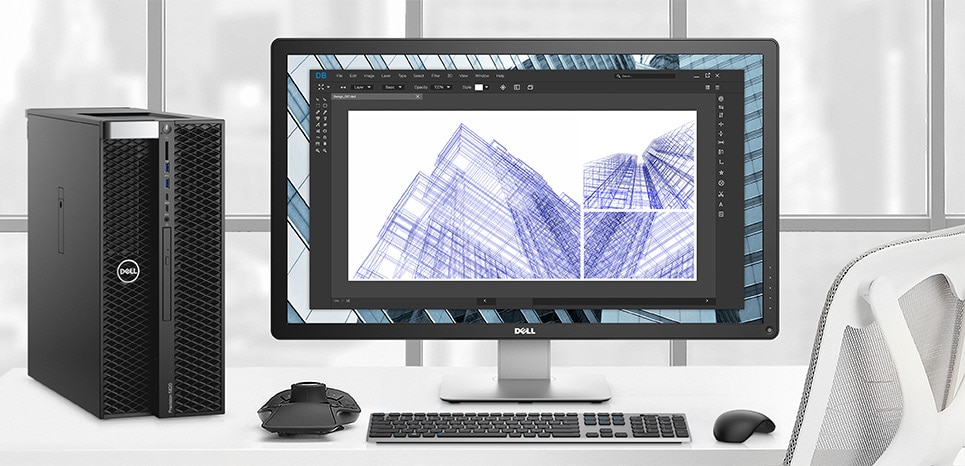 Blazing fast performance
Brainpower that matches yours: The latest Intel® Xeon® processor powers your most demanding applications. Now featuring a new generation of single-socket architecture with up to 18 cores, you can extract maximum performance for your biggest ideas.

Accelerate every project: Run your software as fast as possible and get real-time results thanks to this memory expandable machine with up to 256GB of faster 2666 MHz RDIMM memory.Drown out distraction: Focus on your tasks with the workstation that's quieter than ever. A new multichannel thermal design delivers advanced cooling and acoustics for enhanced cooling and quiet operation when your system is under heavy workloads.
Built for your future
Your Precision 5820 Tower grows with your ideas no matter where they take you, thanks to a new chassis that combines a versatile design with outstanding storage scalability.
Adapts to your innovations: Your Precision 5280 Tower is ready for complex projects, including virtual reality workflows, with the next generation AMD Radeon Pro™ and highest-performing NVIDIA Quadro® graphics. Your workstation supports up to 600W of graphics power and future graphics options up to 300W per card (950W PSU required).
Fine tune audio and video: Effortlessly command your audio and video needs with an optional DPAI audio module capable of handling professional applications.
No project is too big: Up to six 2.5″ or five 3.5″ drives and front access storage including SATA, SAS and PCIe M.2/U.2 NVMe SSD can be configured for up to 28TB total storage and easily swapped. With the hot-swap feature on the M.2 and U.2 PCIe NVMe SSDs, you can remove drives without shutting down the workstation. Enable increased storage performance with the optional Intel CAS-W cache acceleration solution for workstations.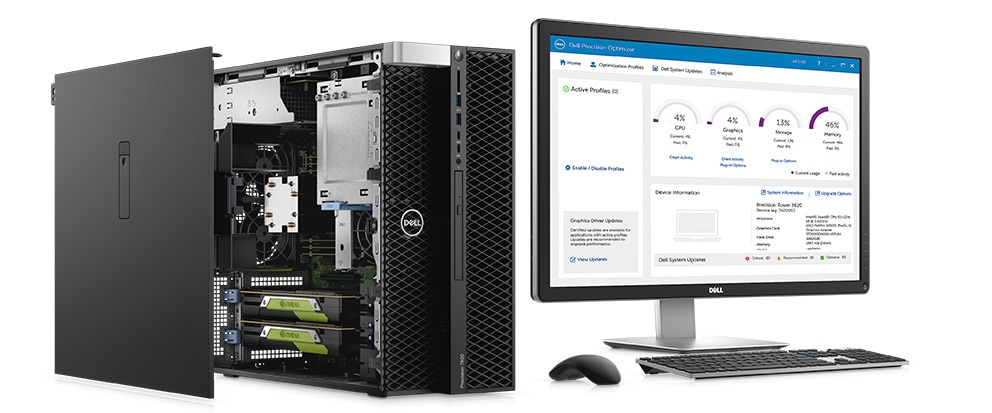 Tuned performance
Free with your Precision workstation, the Dell Precision Optimizer takes the guesswork out of customizing settings and automatically tunes your workstation to run the most popular Independent Software Vendor (ISV) applications at the fastest speeds possible. Featuring centralized management with Microsoft SCCM and KACE, simplified systems management to improve system reliability, detailed analytics and smart notifications to proactively address resource bottlenecks, certified graphics drivers downloads and Radeon ProRender ray-tracing plug-ins to render stunningly photorealistic images ― all in an elegant, new UI.
Reliability where it matters most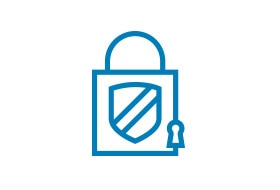 Stay safe, stay secure
Reduce downtime with Dell Reliable Memory Technology (RMT) Pro. Designed to work with ECC memory, RMT protects your machine from potential crashes by mapping out bad memory locations after the system reboots.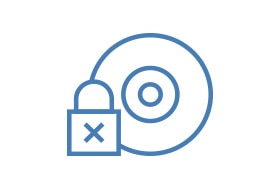 Reliably access your data
Improve the availability of your data with hardware and software optional RAID storage options including PCIe NVMe SSDs and optional Smart Card (CAC/PIV) readers that let you determine who can access your system.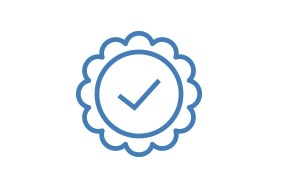 Your work can count on it
Precision Workstations are tested to ensure the high-performance applications you rely on every day run smoothly. Dell ISV-certifications cover the most popular independent software applications.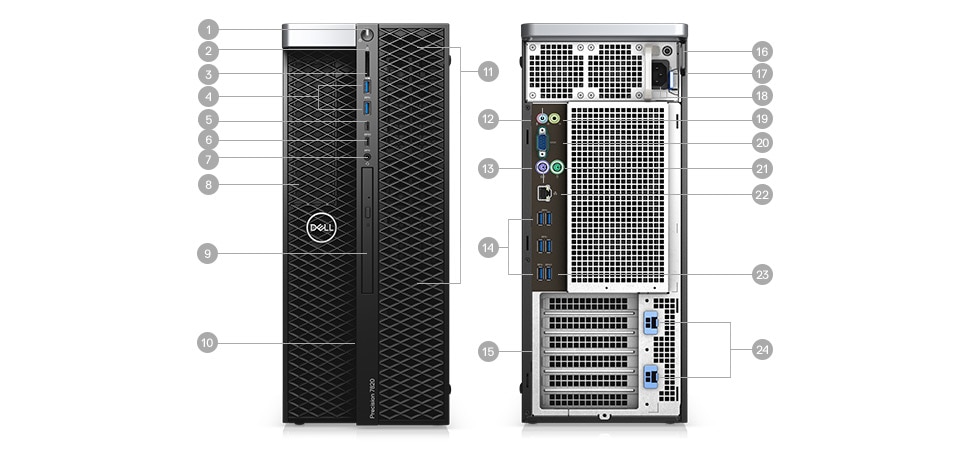 Ports & Slots
1. Power button/Power light | 2. Drive activity light | 3. SD card slot | 4. USB 3.0 ports | 5. USB 3.0 Type-C port with PowerShare | 6. USB 3.0 Type-C port | 7. Headset port | 8. 5.25 inch bay (optional) | 9. Optical drive | 10. Drive access release latch | 11. Drive carriers | 12. Microphone/Line-in port | 13. PS/2 Mouse port | 14. USB 3.0 ports | 15. Discrete graphics card slot (optional) | 16. Padlock ring | 17. Security cable slot | 18. Power cable connector | 19. Line-out port | 20. Serial port | 21. PS/2 Keyboard port | 22. Network port | 23. USB 3.0 port (supports smart Power-On) | 24. Expansion card slots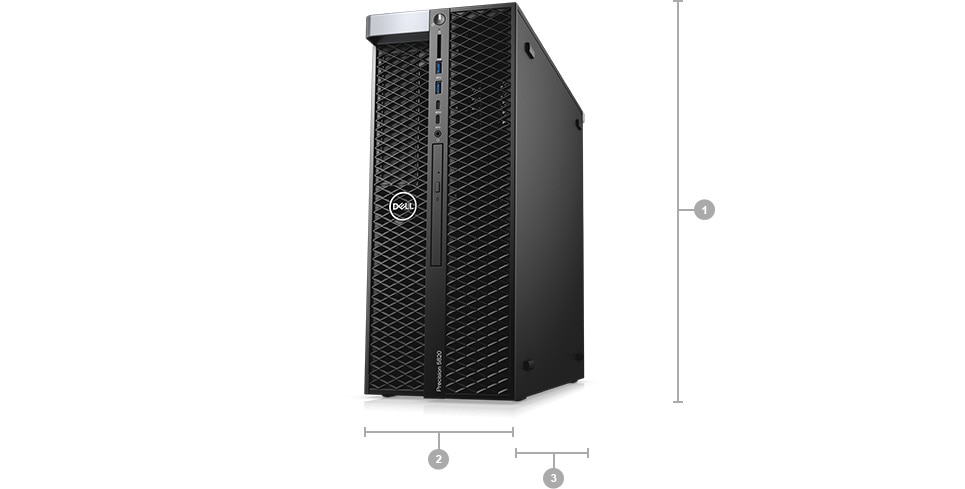 Dimensions & Weight
1. Height: 16.30″ (417.9 mm) | 2. Width: 6.80″ (176.5 mm) | 3. Depth: 19.11″ (518.3 mm)
Weight: 32.0 lbs (15.4kg)
DELL Precision T5820 Jakarta – Indonesia
DELL Jakarta – DELL Indonesia
Tags: DELL Precision T5820, DELL Precision T5820 Indonesia, DELL Precision T5820 Jakarta
DELL Precision T5820 Xeon W-2123 16GB 1TB NVIDIA Quadro P2000 5GB WIn 10 PRO LED 24″
| | |
| --- | --- |
| Berat | 26000 gram |
| Kondisi | Baru |
| Dilihat | 3.700 kali |
| Diskusi | Belum ada komentar |