Whatsapp
Ada yang ditanyakan?
Klik untuk chat dengan customer support kami (DELL JAKARTA) - Laptop - PC Desktop - Server - PC AIO - Monitor - Docking - Battery
DELL JAKARTA
● online
+62818822655
DELL JAKARTA
● online
Halo, perkenalkan saya
DELL JAKARTA
baru saja
Ada yang bisa saya bantu?
baru saja
Buka jam 10.00 s/d jam 18.00 , Sabtu Jam 11.00 s/d 16.00 Minggu dan Hari Besar Libur
Info Produk DELL JAKARTA : 0818-822-655 (WA)
email DELL JAKARTA : sales1@fessadistribution.com
Tentukan pilihan yang tersedia!
Dell UltraSharp 34 Curved Ultrawide Monitor – U3415W
Dell UltraSharp 34 Curved Ultrawide Monitor – U3415W
Specification :
34″ Resolusi 2560 x 1600 , Dual Link Digital Visual Interface connectors (DVI-D) with HDCP, DisplayPort 1.2 (DP), Mini DisplayPort 1.2 (mDP), High Definition Multimedia Interface (HDMI), USB 3.0 upstream port , 4 USB 3.0 downstream ports, DisplayPort out (MST), Audio out, DC power connector for Dell Soundbar (AX510)
Transport yourself to another world.
Enter a new dimension of multitasking with a curved monitor that delivers an immersive, panoramic screen that surrounds your senses with amazingly detailed edge-to-edge WQHD (3440×1440) imagery and crystal-clear sound.
With a field of view that enlists both your primary and peripheral fields of vision, the 34-inch 21:9 curved screen provides an amazing, in-the-action experience.
Rich and engaging sound from dual 9 watt (18W total) integrated speakers transports you further into your digital world.
Increase viewing comfort with a more uniform focal distance. This means that with a curved screen, you won't move your eyes as much as with a flat-screen monitor.
---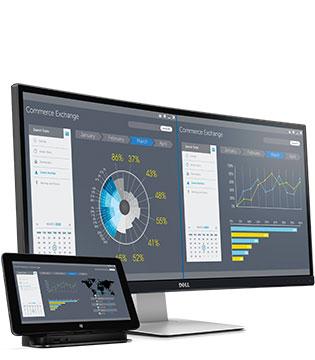 Productive across all screens.
More connectivity features allow you to multitask on-screen or game without interruption.
View applications between two PCs simultaneously on your screen and manage the content with only one keyboard and mouse.
Maximize your multitasking by connecting multiple monitors and peripherals for massive screen real estate.
View seamlessly across multiple monitors by placing the thinnest edges side-by-side for an enhanced viewing experience.
Connect your smartphone or tablet to your monitor using Mini DisplayPort, or use HDMI 2.0 to get the best of the Internet and your favorite apps by displaying in full 21:9 aspect ratio.
Stay organized between applications, emails and windows on one screen using Dell Easy Arrange.
Customize your viewing experience with adjustable height, tilt and swivel options.
---

Connectivity Options
Ports and Slots:
1. Power connector | 2. MHL | 3. HDMI | 4. DisplayPort in | 5. Mini DisplayPort in | 6. DisplayPort out | 7. Audio line out | 8. USB upstream | 9. USB downstream | 10. Stand lock
Cables Included:
1. Mini DisplayPort to DisplayPort Cable (1.8m)
2. HDMI Cable (1.8m)
3. USB 3.0 upstream cable (1.8m)
---
Reliable and eco-efficient
Your Dell UltraSharp 34 Curved Monitor – U3415W is designed to be pixel perfect. That's why if you find even just one bright pixel, we'll replace it under our Premium Panel Guaranteei.
Should you need help down the road, this high-performance monitor also comes with a 3-year Limited Hardware Warrantyi and 3-year Advanced Exchange Servicei.
Enjoy hassle-free convenience as you update your monitor's firmware with the new Firmware Update Utility software.
---

Environmentally-conscious design
The Dell UltraSharp 34 Curved Monitor – U3415W meets the latest regulatory and environmental standards.
TCO Certified Displays
Made with eco-friendly materials, the U3415W is BFR/PVC-free (excluding external cables) and has an arsenic-free glass and mercury-free LED panel.
Enhanced power management with PowerNap dims the monitor to the minimum brightness level or put it into sleep mode when it is not in use.
---
Accessories
Complete your experience with accessories designed to make the most of your Dell UltraSharp 34 Curved Monitor – U3415W.
DELL Jakarta – DELL Indonesia
Tags: DELL Monitor U3415W, DELL Ultrasharp LED Monitor U3415W, DELL Ultrasharp LED Monitor U3415W Jakarta, Monitor U3415W, U3415W
Dell UltraSharp 34 Curved Ultrawide Monitor – U3415W
| | |
| --- | --- |
| Berat | 8000 gram |
| Kondisi | Baru |
| Dilihat | 2.650 kali |
| Diskusi | Belum ada komentar |