Whatsapp
Ada yang ditanyakan?
Klik untuk chat dengan customer support kami (DELL JAKARTA) - Laptop - PC Desktop - Server - PC AIO - Monitor - Docking - Battery
DELL JAKARTA
● online
+62818822655
DELL JAKARTA
● online
Halo, perkenalkan saya
DELL JAKARTA
baru saja
Ada yang bisa saya bantu?
baru saja
Buka jam 10.00 s/d jam 18.00 , Sabtu Jam 11.00 s/d 16.00 Minggu dan Hari Besar Libur
Info Produk DELL JAKARTA : 0818-822-655 (WA)
email DELL JAKARTA : sales1@fessadistribution.com
Tentukan pilihan yang tersedia!
OUT OF STOCK
Maaf, produk ini tidak tersedia.
Dell Wireless Keyboard and Mouse- KM636 (black)
Dell Wireless Keyboard and Mouse- KM636 (black)
Contemporary design
Refresh your workspace with the Dell Wireless Keyboard and Mouse KM636. Designed to complement the latest and upcoming Dell systems, the modern contours and sleek lines of the wireless keyboard and mouse will give your workspace, whether at home or at the office, a contemporary look and feel.
The compact size of the keyboard also takes up less space on your desktop and is designed for comfort during prolonged usage. The KM636 has a muted typing sound and reduced key gaps to help prevent dust accumulation, plus a mouse scroll wheel that has been enlarged to enhance productivity.

---
Wireless convenience and performance
Set up is easy, so you can quickly enjoy the freedom and flexibility of typing and using your mouse and keyboard wirelessly.
---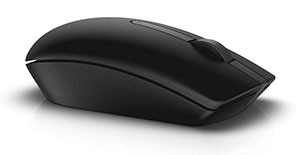 Long, efficient battery life
With up to twelve months of battery life, the wireless keyboard and mouse will handle your heavy workload at the office and stand up to long periods of use at home too. Designed to be energy efficient, you'll avoid the hassle and expense of frequent battery changes.
---
Comfort and convenience you can depend on
h elevated and spacious chiclet keys, multimedia keys, plus optical tracking for precise mouse movement, you can rely on the Dell Wireless Keyboard and Mouse KM636 for a comfortable and productive user experience. The wireless keyboard and mouse are your everyday, get things done, productivity partners at your fingertips. The Dell wireless keyboard and mouse KM636 also has a palm rest that is available for separate purchase.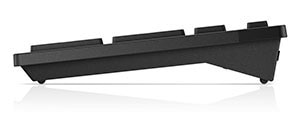 ---
What's in the box
Keyboard
Mouse
Receiver
Tags: DELl KM636, DELL KM636 Jakarta
Dell Wireless Keyboard and Mouse- KM636 (black)
| | |
| --- | --- |
| Berat | 1000 gram |
| Kondisi | Baru |
| Dilihat | 2.551 kali |
| Diskusi | Belum ada komentar |